Welcome to Bookie Brunch: Trick or Treat! 
On each blog stop from now through Halloween, a blogger or vlogger will have a handpicked Halloween treat to share with you – it might be a video clip, or a feature about great spooky films, a playlist of great, creepy songs, a recipe for treats, or a gallery of witches.
It might be anything! But it's sure to be something fun, so feel free to drop by each day from October 23-31, to pick up some cute treats to put you in the Halloween mood. All the treats will be added into the linky at the end of this post, so feel free to browse.
My treat for you is: A Love Spell
A love spell is self-explanatory really, but the reason why I picked it…is because today is my anniversary (26 Feb is the true anniversary but who are we to deny celebrations every month)! So today I am feeling very romantic and in love.
The type of love spell I am going to give you is based on the elements and invoking them, and the reason for that is because my love and I both strongly represent our elements in daily life. I am a calming water sign, he is a passionate fire sign. Not to mention I recently did a re-watch of Avatar: The Last Airbender.
So here we go:
For this particular elemental spell you will need to do it OUTSIDE (as it involves candles) not to mention being indoors whilst invoking elements is kind of counter-intuitive.
PLEASE NOTE that everything here is optional, this spell is about sending a positive message out to the universe. If you want to tweak it to feel more comfortable when doing it…by all means.
Firstly you will need:
5 Candles preferably of the same size. IF you wish, they can also be coloured (red=fire, blue=water, green=earth, yellow=air, purple=spirit )
A lighter – again please do this OUTSIDE
Next there are some decisions you need to make:
What time of day suits you best? – I personally identify with dawn and very late at night
If you're doing this at night, which phase of the moon do you identify with? – Personally I am a full moon type of girl because I am an avid believer (and sufferer) of Full Moon Fever
Who are you going to be talking to? If you're a Christian, talk to God. He is after all the God of Love, and He created the elements. But if you don't want to talk to God or want someone a little more specific…here are some suggestions:
Aphrodite: Probably the most famous Goddess of Love in our time
Isis: If you're a lover of all things Egypt, Isis was one of their most powerful Goddesses. When her husband Osiris died, she refused to let him go, giving him the breath of life using her wings.
Aine: This Celtic faery queen encourages human love. She is the goddess of love and fertility, not to mention summer – which is the perfect time for romance
Goddess: Also known as Mother Earth or the Triple Goddess. The Goddess is the embodiment of nature, she is soemtimes referred to as the ultimate representation of feminism.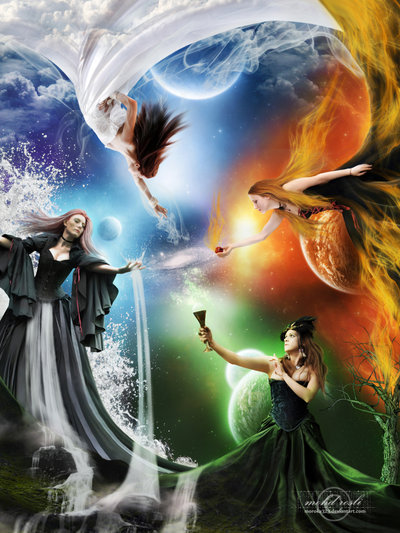 The Spell:
First you'll have to draw a circle, you don't have to draw a physical one if you don't want to but you'll need the image of how lar
ge it is in your mind (make sure it's big enough for you to fit into.)
Place each of the candles at their points on the compass (Green = North/Earth, Yellow = East/Air, Red = South/Fire, Blue = West/Water, Purple = Center/Spirit)
Clear your mind and refocus on what you're about to do.
Face North. And Invoke Earth:
I call upon the Earth, Guardian of the North, please join us now to bear witness and guard this circle.
Light the green candle and move clockwise to the yellow candle to invoke wind/air.
I call upon the wind, Guardian of the East, please join us now to bear witness and guard this circle.
Light the yellow candle and again move clockwise to the red candle at south.
I call upon fire, Guardian of the South, please join us now to bear witness and guard this circle
Light the red candle and move clockwise to water.
I call upon water, Guardian of the West, please join us now to bear witness and guard this circle.
Light the blue candle and move back to the center of the circle to invoke spirit.
I call upon spirit, essence of us all, please join us now to bear witness and guard this circle.
Light the purple candle.
At this point the circle has been cast and you shouldn't leave it.
Now you can talk to whomever it is you wish to speak to, whether it be God or Aphrodite or anyone one else you want to hear your message.
This is actually the process of casting a general circle, now that you're in it, you can do whatever you wish. If you want to cast a love spell then you have to tell the universe what you want.
Here is a poem I wrote specifically for this spell that you can use if you want:
I call upon the powers above,
To help guide me to my true love,
When first we look into each others eyes
Our soulmate found we'll realize

I call upon the powers that be,
Guide my one true love to me,
Help us find each others arms,
But until that day keep (him/her) safe from harm

I call upon you (God/Goddess) of love,
Find the one I'm speaking of,
Until that day help my eyes stay wide,
To find the one meant for my side.
Once you've finished everything you want to do in the circle, you need to close it. Thank each of the elements for witnessing, and dismiss them. You need to do this in the reverse order that you brought them in so Spirit, Water, Fire, Air, Earth.
~~~Giveaway~~~
My giveaway for today is a leather bound, handmade A6 journal. It's blank for you to fill up with anything you want. Why a journal? I hear you asking. And I answer you dear reader: because being loved up like I am, I used one of these to write down all of my thoughts and poems and lyrics and the above love spell when I fell in love.
All you have to do to enter is leave a comment answering me this:
- What element are you born under?
- Have you ever cast a spell?
- Who in your opinion is the greatest love deity?
This giveaway is International (please make sure to leave your email address)
It will close at 11:59 AEDT Monday, 5th November 2012
About Bookie Brunch:
Trick or Treat!:
The first blog hop was a
Bookie Brunch
special event for Halloween, and it was a lot of fun, so we're just continuing the tradition. Bookie Brunch was a weekly book discussion founded by Sasha Soren, the author of 
Random Magic
.
Browse archive
Also this month – drop by for Video Week:
Random Magic
, from Oct. 21-30, featuring an entertaining week of cool reviews and creative features from vloggers around the world. They're featuring the book
Random Magic
by Sasha Soren. Browse
schedule
 (( OR )) Visit the YouTube page for the schedule in infobox.
If you stopped by for Halloween at my place, here's what you'd find in your treats bag:
Rocky Road slice! Because the other day I ate a block of this stuff from Cadbury's and now I want more! Which means when I make too much you guys shall suffer along with me.